October 4th, 2019
Researchers are developing a graphene sensing system that detects early signs of foot ulcers before they form so people living with diabetes can access preventative healthcare and confidently manage their health.
September 6, 2018
Bonbouton and Liquid X Printed Metals announce their joint development agreement for a collaborative effort to develop advanced textile-based temperature and pressure sensors for healthcare applications.
June 27, 2018
Review article of new wearable technologies. Bonbouton mentioned as a 'wearable device that monitors the skin's physiological signals. Other technologies mentioned are majorly in the AR/VR and activity tracking spaces.
June 21, 2018
Mid-Atlantic Bio Angels (MABA) announces today that Bonbouton, a New York-based company developing insole sensor technology to more rapidly identify circulatory conditions leading to diabetic foot ulcers, was named "Best in Show" at MABA's 1st Pitch Life Science event held on June 11, 2018 at Mt. Sinai Medical Center in New York.
May 10, 2018
Review article of connected sensors being commercialized for use in preventing diabetic foot ulcers. Companies mentioned include Bonbouton, Meditek, Leaf Healthcare, Orpyx, Siren, Footfalls and Heartbeats.
April 24, 2018
Naming of finalists in T1D 2018 diabetes innovaiton challenge. Bonbouton mentioned once as finalist in diagnostics category.
April 6, 2018
AlleyWatch interview with Linh and Ingrid. Article gives overview of company ideals and goals, as well as differentiation.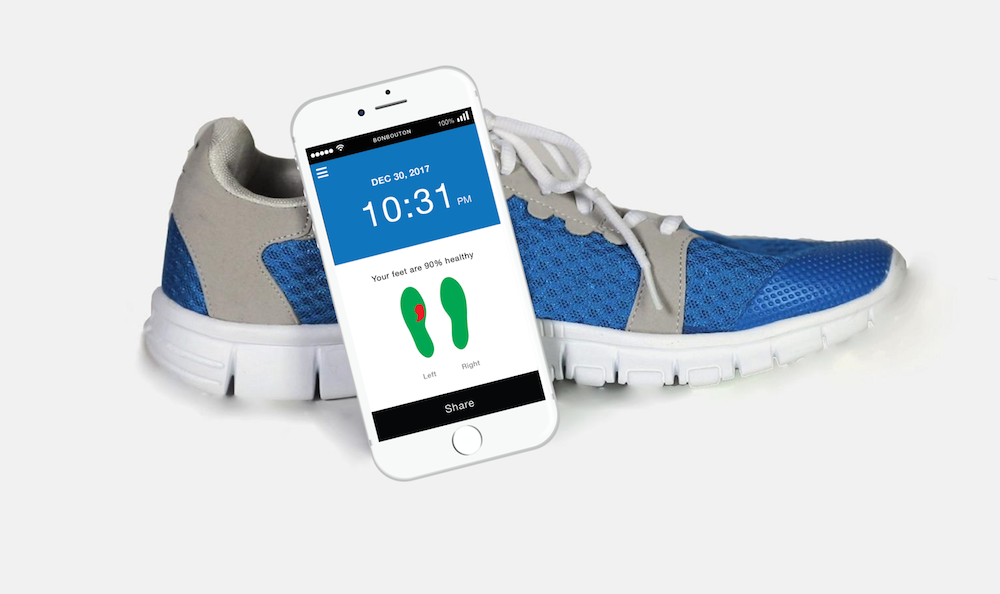 March 21, 2018
Announcement of Bonbouton partnership with Gore. Partnership summarized as collaboration over development of temperature sensing materials and applications in healthcare in the early stages. News is provided to prnewsire by Gore.
February 15, 2018
Overview of Gore Innovation Center. Bonbouton mentioned only once, as a company having a presence at Innovation Center's "Digital Health Innovation Day 2.0" event.
January 16, 2018
Overview of flexible hybrid electronics markets and applications of technology. Bonbouton is mentioned as a company speaking during event keynote.
December 17, 2017
Announcement by HITLAB and NYCEDC of third class of startups in the digital health space. Bonbouton mentioned as part of the second class of startups.
June 29, 2017
Entrepreneur's Roundtable announcement of the selection of Bonbouton and PCB:NG for the 2017 accelerator summer cohort. Written by a third party analyst.
April 28, 2017
Weekly startup spotlight by tech.co. Bonbouton highlighted as having created a "line of smart clothes that can track your vitals". Mention of technology being open to third party developers as well.
April 12, 2017
Bonbouton highlighted as leader in NYC digital healthcare space. Article talks about Bonbouton being chosen by NYCEDC for its digital health breakthrough network.
April 6, 2017
Article about NYC economic development corp investing in digital technology startups. Bonbouton is the first company mentioned, and the article briefly summarizes bonbouton's platform opportunities.